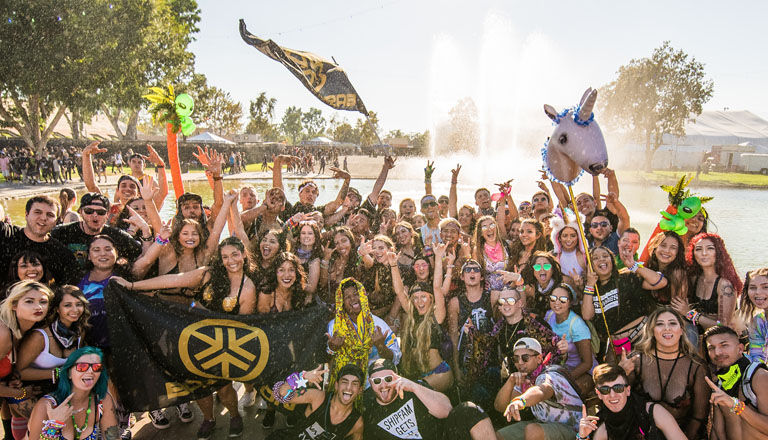 Tickets
General Admission
A GA ticket grants you entry into PROJECT:Z, a mind-melting world of captivating performers and visual effects, cutting-edge production and the biggest names in bass music and hard dance.
Beware of scalpers and scammers! See our Ticketing FAQ for more information. You must be 18+ to enter the festival. Want to enhance your festival experience even further?
Ticketing FAQ
Are tickets expected to sell out?

There is always a chance that the event will sell out, in which case no more tickets will be sold. So get your tickets now — we want to make sure you don't miss out!
What payment methods can be used to purchase tickets?

Credit and debit cards are accepted.
What is the maximum number of tickets I can buy?

Tickets are limited to six (6) per person.
Should I receive a confirmation email for my purchase?

You should receive a confirmation email within moments of purchase. If you do not (be sure to check your junk folder), please contact Front Gate Tickets.
What if I purchased tickets but my card hasn't been charged yet?

Your card should be charged within two business days. If you do not see the charge on your account, please contact Front Gate Tickets.
The event's almost here! Where are my tickets?!

If you do not receive your tickets within two weeks of the event, please call Front Gate Tickets.
How can I avoid ticket fraud?

The best way to avoid ticket fraud is to buy directly from Front Gate. If you buy resale tickets, we advise you to get them only from trusted friends. DO NOT purchase from scalpers. If you arrive at the venue with an illegitimate ticket, you will be turned away, and no refund will be provided.
I'm buying multiple tickets. Can I transfer some of them to friends?

You may purchase tickets on behalf of your friends, but once they've used their ticket for entry, it is non-transferable. And for security purposes, they will not be able to discuss the specifics of your order with ticketing representatives.